SOSKIN, A FRENCH BRAND THAT ASSUMES ITS DIFFERENCES ACROSS THE 5 CONTINENTS, IS FOCUSED ON SKIN HEALTH, ITS CONDITION AND ITS WELLNESS.
Your expectations will vary depending on your age, your origin, your skin color, your exposure to pollution and UVs. In order to cover the diversity of the needs specific to each skin type, SOSKIN products are made from botanical and biotechnological derived ingredients that suit every skin type. Their capacity to mime the biological mechanisms of the epidermis enabling to find its balance. A goal that has now become reality thanks to a man's determination and the skills of a researchers' team who heard the practitioners and public demand.
SOSKINS PHILOSOPHY : ONLY INNOVATION CAN MAKE A DIFFERENCE
From the outset and for more than 20 years, SOSKIN founded its uniqueness by emphasizing the crossed prescription of health and beauty experts : dermatologists, aesthetic clinics, beauty institutes.
Alexandre DINGAS, Doctor of human and biological sciences, founder of SOSKIN, works closely with French specialists, doctors, pharmacists, chemists and cosmetologists to build a comprehensive range of skincare for retailers and professionals.
Today, SOSKIN philosophy can be resumed in a product charter based on innovation without compromising tolerance. The formulas excel in light textures and are known for optimal preservation and adsorption of the active ingredients. Consumers can thus experience the beneficial properties of pure ingredients. For the Doctor and his team, skin health is in the center of creative approach.
(A+) AGE PERFORMANCE

BODY ARCHITECT



BABY CARE

(P+) PURE PREPARATION

SUN GUARD

(W+) WHITE SPEC.



(R+) RESTORATIVE
Masseuse Training Courses
We are happy to announce that from the 9th of November 2015, bluewater will be running Masseuse
training courses
, in affiliation with our partner training-provider, Natalie Boddy at HARMONIE in
Antibes
.
Natalie has over 10 years of experience and study in worldwide massage and over the years has developed a unique style of massage, designed to find and eliminate residual tension in the body and deeply relax clients, enhancing their health and wellbeing.
Natalie has recently opened up her brand new massage studio in Antibes, which has allowed her to utilize her instructor skills and spread her talents to students who want to learn the art of massage.
Massage courses in the yachting industry are extremely helpful as they are a great added skill to list on your CV. Having a crew member onboard that for instance is a stewardess and holds a masseuse certificate is great news for owners and charter guests to have. It's great for the owner to enjoy having a masseuse on hand throughout their trips and to also offer it to charter guests.
Introductory Relaxing Massage Course
Upcoming dates: https://www.bluewateryachting.com/crew-training/courses/interior-17
Harmonie by Natalie Boddy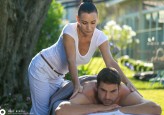 Natalie Boddy at HARMONIE is also one of our ONE Account affiliates, where if your yacht has a ONE Account, a percentage of the yachts training vouchers can be applied towards the course price.
For more information and bookings please contact our training team:
training@bluewateryachting.com
+33 493 34 47 73
Published March 2017
Bianca runs CREW Pilates — a registered French business which provides exclusive Pilates training to a variety of clients including yacht guests and crew, athletes and mums-to-be. Her sessions are known to be challenging, inspiring and always different.
Bianca regularly attends workshops and visits fellow BASI studios around the world to keep abreast of latest research and changes to the contemporary Pilates repertoire. In March 2016, she qualified with the BASI Pilates through Pregnancy certificate course in Cape Town, South Africa.
She also attended day workshops in Athens, Greece, including BASI Pilates for the Amateur Athlete and BASI Treatment of Lower Back Pain.
In September 2016, Bianca passed the C.H.E.K Institute Scientific Core Conditioning e-course as an add-on to her interest in sports anatomy.
Yachts & Villas
CREW Pilates offers exclusive training for yacht and villa guests throughout the south of France.
As ex-crew, Bianca is intuitively familiar with the super yachting industry and knows how to deliver a high-end and professional training experience for her clients. CREW Pilates has trained on board M/Y Kibo (82m) and M/Y Andreas L (60m) to name a few, and teaches regularly at private villas around Cap D'Antibes and Cannes.
All sessions are tailored to guest needs and fitness goals. Sessions are safe and challenging for both men and women and can be achieved with limited space.
Training is also available to yachts/villas which are equipped with Pilates apparatus including the reformer, cadillac, wunda chair, ladder barrel, spine corrector and Ped-O-Pul.
Training is always provided in the strictest confidence.
For more information or to request a quote, contact CREW Pilates.
Bianca Ljungberg
Owner | BASI Instructor
As the world leader in essential oils, Young Living believes that everyone deserves a life full of wellness and abundance.Their vision is to bring the life-changing benefits of essential oils to every home and family.The Young Living story started more than 20 years ago with a simple, home-built essential oil distillery. Today, their farms and community span the globe. Because of their proven commitment to provide nature's best, millions of people now benefit from the quality essential oils that they produce.Their Seed to Seal® process is a promise to us all. This meticulous, five-step approach allows Young Living to deliver nature's most potent and pure essential oils from their farms to our families. From the time they choose which seeds to plant to when their products are delivered to our homes, they hand-pick the very best to ensure purity and safety. To learn more about this process click below:
READ MORE ABOUT SEED TO SEAL https://www.youngliving.com/en_EU/discover/seed-to-seal
Young Living products are only available from independent distributors such as myself or, to benefit from wholesale prices, you can just sign up for a wholesale account yourself – it's as easy as that. If you would like more information on how to get hold of Young Living products, just give me a call or drop me an email.
If you are ready to open an account, just click here to get you on your way: